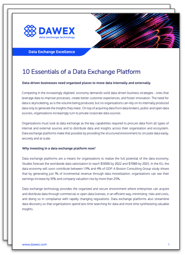 Data Exchange is emerging as a key topic to enter the data economy and is now on top of the agenda for an increasing number of corporations, institutions and governments around the world. Organizations are unleashing the potential of Data Exchange to generate new revenues, mitigate risks, increase company value and improve productivity.
A Data Exchange Platform is a cutting-edge technology empowering your organization to facilitate internal and external data circulation at scale, in a secure and trustful environment.
What level of sophistication should you look for in a Data Exchange Platform?

Which features are crucial?

How can you know it will be adapted to your organization's data and business needs?
Find the answers to these questions in our "10 Essentials for a Data Exchange Platform" guide.
Uncover exciting Data Exchange features now!